Kids Programs
Special Holiday Programs
HALLOWEEN 
Sat, Oct 27th from 10AM to 1:30PM at the Spencerville branch
Mon, Oct 29th from 5:30 to 8 PM at the Cardinal branch
Drop-in and join us for a Halloween story, treats, I SPY & costumes! All ages welcome.
REMEMBRANCE DAY
Sat, Nov 10th from 10 to 11AM at the Cardinal branch
We are launching 2 special bear bags in partnership with the Spencerville and Cardinal Legions. Join us for a special story about the poppy and make a poppy craft during this special commemorative program.
CHRISTMAS
Christmas Card Making
Wed, Nov 21st from 5:30 to 7:30 at the Cardinal branch
This is a free program for children age 8+. The best gifts are the homemade ones! Come and make beautiful home-made Christmas cards with the talented Joyce Morris.
Christmas Story & Craft
Sat, Dec 15th, 10 AM to 1:30 PM at the Spencerville branch
Wed, Dec 19th, 6 to 7 PM at the Cardinal branch
Join us for a Christmas story & craft! All ages welcome.
Fall Kids Programs
BABYTIME
Thursdays, Spencerville branch, 10:30 – 11:30 AM
Starts Oct 4, 2018 – Ends Dec 20, 2018
Continuing from our previous program, we will be offering half an hour of songs and rhymes to help your baby's pre-literacy skills. Older siblings are welcome. A second half hour will be social time for parents and children. Max. 15 adults per program.
BEDTIME STORYTIME 
Wednesdays, Cardinal branch, 6:30 – 7 PM
Starts Oct 10, 2018 – Ends Dec 19, 2018
Come in for half an hour of books and songs to help your child develop pre-literacy skills, get ready for kindergarten and foster a love of learning. Drop-ins welcome – bring the whole family!
CREATIVE WRITING
Every 3rd Monday, Cardinal branch, 6 – 7 PM
Starts Sep 17, 2018 – Ends Dec 17, 2018
Each month we work with a theme, explore a writing concept and discuss our current project. People aged 13 to 25 are encouraged to share their short stories during this creative writing session.
READ TO EVERY KID EVERY DAY
Open Contest – Oct 1st, 2018 to Jan 18th, 2019
Read the books and vote! Read to Every Kid Every Day is a counties-wide family literacy initiative that supports the importance of daily reading to children through an annual campaign to determine Leeds-Grenville's favourite children's book. Books are available to check out at both library branches.
For additional information see:
www.everykid.on.ca 
www.facebook.com/ReadToEveryKidEveryDay/
FAMILY LEGO® 
Spencerville Branch: 3rd Saturday of the month
Cardinal Branch: 4th Saturday of the month
The library has bins and bins of LEGO® available so come on in and build whatever you can dream of! Note: this program is not run by staff so parental supervision is required.

PROGRAM-TO-GO BAGS
Our Program-to-Go (P2G) bags are a storytime to go! Each bag contains 6 books, at least 2 activities, 1 craft and all the supplies (except scissors) that you'll need to have a storytime anywhere!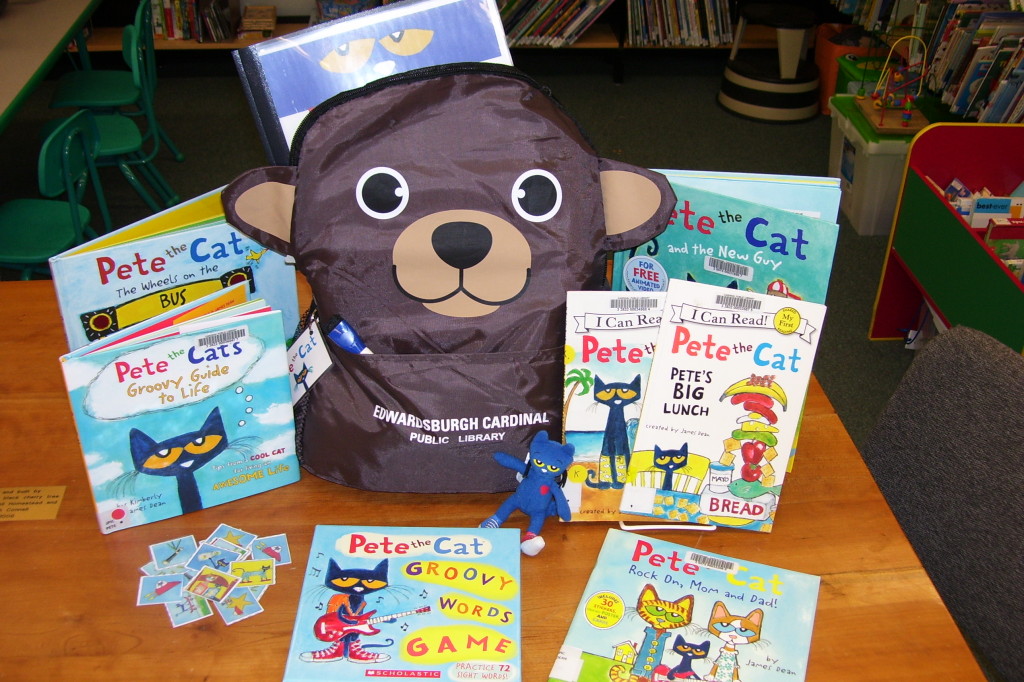 There are 20 different themes including:
Pete the Cat
Hockey
Dinosaurs
Manners
Family
Food
Trucks & Vehicles
I Spy
Choose Your Own Adventure
ABCs
Counting & Numbers
Reserve yours today!