Kids Programs
Weekly In-Branch Programs
Starting July 3rd, 2018 and ending August 26th, 2018
Spencerville: Tuesday, 10 – 11am
Cardinal: Thursday, 2 – 3pm
Come in anytime to FIND PETE THE CAT, complete our weekly I SPY CHALLENGE  and add to our LIBRARY GARDEN. You can also participate in our WEEKLY SUMMER PROGRAMS and enjoy engaging stories, activities and crafts every week. These are drop-in programs that do not require registration, just show up and have fun!
Sign-up to receive cool TD Summer Reading Club swag!
Feed Your Passion this summer and explore these interests during our weekly programs:
July 2 – 8:   Opening Ceremonies – Flying into our passions!
July 9 – 15:   Splat Science!
July 16 – 22:   Coding is Cool
July 23 – 29:    Art Attack!
July 30 – Aug 5:   Engineer & Build It
Aug 6 – 12:   Break – no weekly program – you can still come in to find Pete, complete an I Spy challenge and add a flower to the library garden. 
Aug 13 – 19:   Wild About Nature
Aug 20 – 26:   Closing Ceremonies – It's a musical party!
Special Summer Programs
Tech Toys
Saturday July 21st, Cardinal branch, 9 AM – 12 PM
Drop in and code with our robot Dash, discover real life and fun applications of a 3D printer, make music with our Makey Makey on a giant piano and learn with OSMO. Explore at your own pace at this drop-in event!
Imagination Station
Saturday July 28th, Spencerville branch, 10 AM – 1:30 PM
Use your imagination and our abundance of craft supplies to create a craft entry for the Spencerville Fair. Create at your own pace at this drop-in event! We'll have all the fair categories for you to choose from.
Wild About Animals
Saturday August 18th, Spencerville branch, 10 AM – 1:30 PM
What happens to animals when they inhabit your home? Nuisance Wildlife Control has the answers! Drop-in and touch Canadian wildlife pelts, find out how a live trap works and decipher animal tracks!
Creative Writing
Every 2nd & 4th Monday, Cardinal branch, 6 – 7 PM
Each month we work with a theme, explore a writing concept and discuss our current project. People aged 13 to 25 are encouraged to share their short stories during this creative writing session.
Other Kids Programs
Babytime – Spencerville Branch
Thursdays 10:30 – 11:30 a.m.
Program doesn't run in the summer – Will resume in the Fall.
Continuing from our previous program, we will be offering half an hour of songs and rhymes to help your baby's pre-literacy skills. Older siblings are welcome. A second half hour will be social time for parents and children. Max. 15 adults per program.
Storytime – Cardinal Branch
Every second Saturday of the month from 10:30 – 11 a.m.
Program doesn't run in the summer – Will resume in the Fall. 
Come in for half an hour of books and songs to help your child develop pre-literacy skills, get ready for kindergarten and foster a love of learning. Drop-ins welcome – bring the whole family!
Program-to-Go bags
Our Program-to-Go (P2G) bags are a storytime to go! Each bag contains 6 books, at least 2 activities, 1 craft and all the supplies (except scissors) that you'll need to have a storytime anywhere!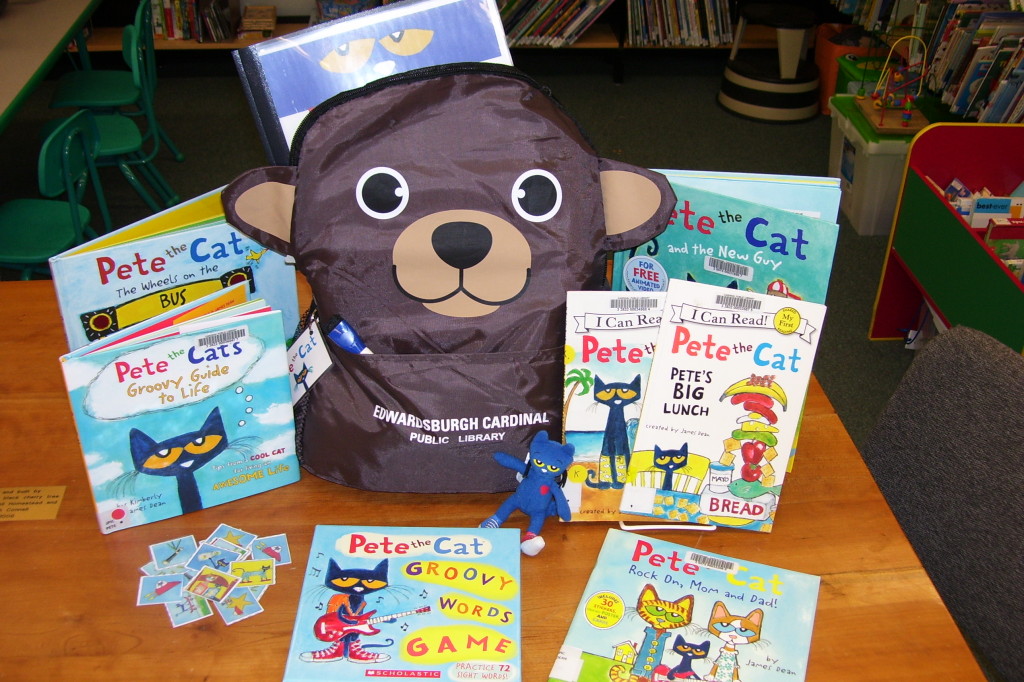 There are 20 different themes including:
Pete the Cat
Hockey
Dinosaurs
Manners
Family
Food
Trucks & Vehicles
I Spy
Choose Your Own Adventure
ABCs
Counting & Numbers
Reserve yours today!
Family LEGO® at the Library
Spencerville Branch: 3rd Saturday of the month
Cardinal Branch: 4th Saturday of the month
The library has bins and bins of LEGO® available so come on in and build whatever you can dream of! Note: this program is not run by staff so parental supervision is required.