Kids Programs
Special Holiday Programs
MARCH BREAK
Games
All week in both branches
We'll have our board games, colouring pages and puzzles out in both library branches during March Break. All ages welcome!
Cardinal Spring Fling
Tuesday, March 12th from 2 to 3 PM at the Cardinal branch
Kids will have a chance to decorate a pot, plant a seed in it then take it home and watch it grow over the spring into summer! This is a free family event. Parents must stay with their young children during the entirety of the program.

Dinosaur Day
Thursday, March 14 at the Spencerville branch
Drop-in anytime between 2 to 6 PM and enjoy dinosaur I Spy and create your own Lego Dino's Note: this program will be set up for you to enjoy but is not run by staff so parental supervision is required.
Slime Time!
Thursday, March 14 from 2 to 3 PM at the Cardinal branch
Come and make slime during this free drop-in program for children of all ages.
EASTER EGG HUNT 
Saturday, April 20th in both library branches
9 AM to NOON in CARDINAL
10 AM to 1:30 PM in SPENCERVILLE
The Easter Bunny has hidden eggs in the library! Drop-in and find the eggs to get a treat. Ages 12 and under welcome to this free family event. The Friends of the Library groups help the Easter Bunny provide treats for this event.
WINTER Kids Programs
BABYTIME
Stop in on Thursday mornings from 10:30 to 11:30 for an hour of stories and socialization to help your baby's pre-literacy skills. Older siblings are welcome.
BEDTIME STORYTIME 
Wednesdays, both library branches, 6:30 – 7 PM
Starts January 16th, 2019 – Ends April 24th, 2019
Get comfortable in your pajamas and bring your teddy bear for songs, rhymes and fun times (maybe even some ukelele!). Our children's programmer, Cathy, and our early literacy professionals, Heidi and Karen, can't wait to read with you. Free drop-in program – bring the whole family!
FAMILY LEGO® 
Spencerville Branch: 3rd Saturday of the month
Cardinal Branch: 4th Saturday of the month
The library has bins and bins of LEGO® available so come on in and build whatever you can dream of! Note: this program is not run by staff so parental supervision is required.

PROGRAM-TO-GO BAGS
Our Program-to-Go (P2G) bags are a storytime to go! Each bag contains 6 books, at least 2 activities, 1 craft and all the supplies (except scissors) that you'll need to have a storytime anywhere!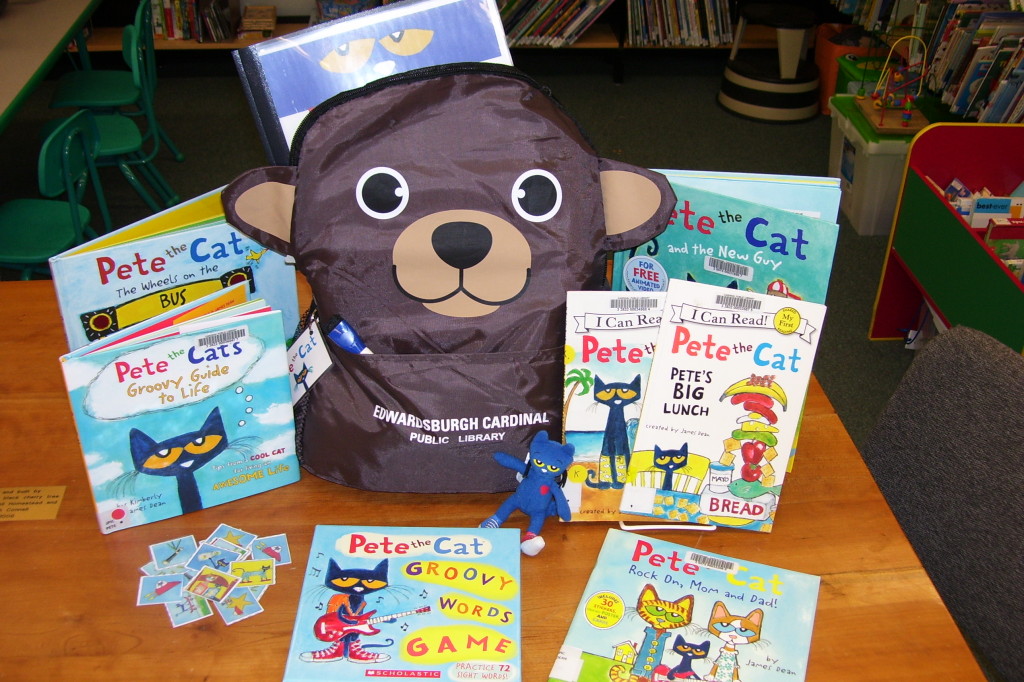 There are 20 different themes including:
Pete the Cat
Hockey
Dinosaurs
Manners
Family
Food
Trucks & Vehicles
I Spy
Choose Your Own Adventure
ABCs
Counting & Numbers
Reserve yours today!