Kids Programs
Special Kids Programs
Holiday Fun at the Library
T'was the Night Before Christmas Puppet Show
Get into the holiday spirit with a classic Christmas story presented by puppets!
Saturday, December 9th at 10:00 a.m. in Cardinal
Christmas Storytime & Craft
Thursday, December 14th at 10 a.m. in Cardinal
Thursday, December 21st at 4:30 p.m.
Game On!
Drop-in during library hours January 2nd to January 6th and play! We'll have board games and colouring pages out for everyone to enjoy.
Read To Every Kid Every Day
RTEKED has launched their 9th literacy challenge. Enjoy reading the 10 picture books with a child and vote for your favourite! This project promotes the importance of reading to children through a counties-wide collaborative initiative. Come in to either library branch to checkout the books, read them and vote.
Fall Kids Programs
Programs start the first week of October and end December 16th.
Babytime – Spencerville Branch
Thursdays 10:30 – 11:30 a.m.
October 5th, 2017 to December 14th, 2017
Continuing from our previous program, we will be offering half an hour of songs and rhymes to help your baby's pre-literacy skills. Older siblings are welcome. A second half hour will be social time for parents and children. Max. 15 adults per program. Sign up  to save your spot by e-mailing alexine.marier@edcarlibrary.ca.
Storytime – Cardinal Branch
Thursdays 2 – 2:30 p.m.
October 5th, 2017 to December 14th, 2017
Come in for half an hour of books and songs to help your child develop pre-literacy skills, get ready for kindergarten and foster a love of learning. Our focus will be the Read To Every Kid Every Day books. Drop-ins welcome!
Storytime with Ontario Early Years Centre – Cardinal
Join Cathy for storyti
me with the Ontario Early Years Center's "Pop Up Play". Our children's programmer will be there for special storytimes Friday September 22nd, October 13th, November 10th and December 8th.
Drop-in every Friday to explore and create with a variety of materials from boxes and fabric to wood of all shapes and sizes! Unleash your imagination at our new Pop-up Play. For parents/caregivers and their children birth to 6 years. Free. For more information: Call OEYC 1-866-433-8933, ext. 2374
Sept. 15 – Dec. 15 (Fridays) 9:30 – 11:30 a.m. Ingredion Centre, 4050 Dishaw St., Cardinal
Program-to-Go bags
Our Program-to-Go (P2G) bags are a storytime to go! Each bag contains 6 books, at least 2 activities, 1 craft and all the supplies (except scissors) that you'll need to have a storytime anywhere!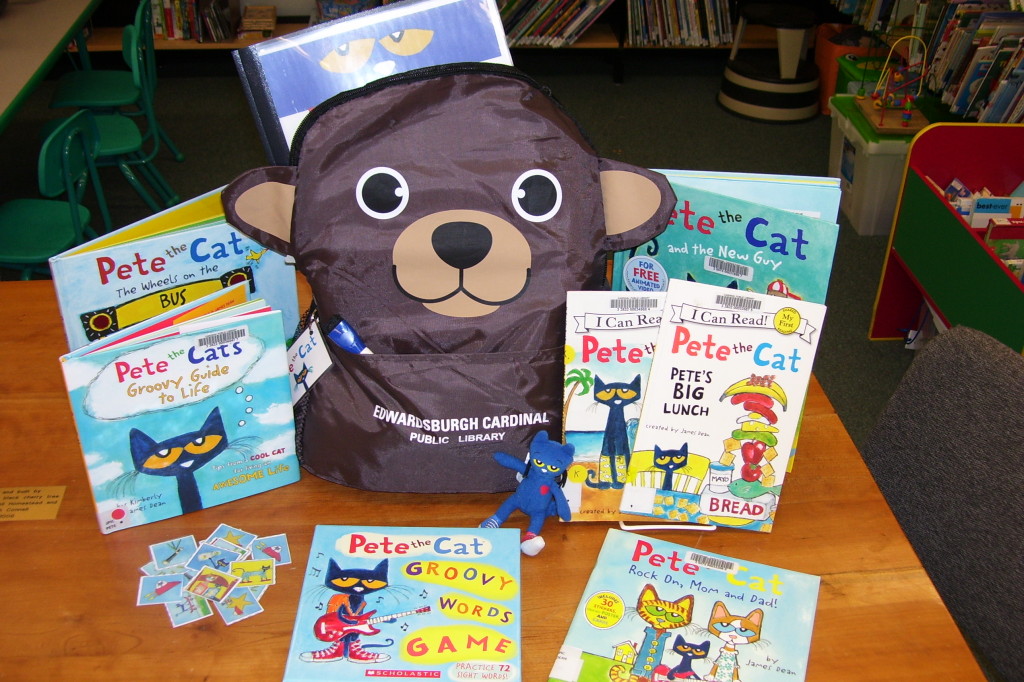 There are 20 different themes including:
Pete the Cat
Hockey
Dinosaurs
Manners
Family
Food
Trucks & Vehicles
I Spy
Choose Your Own Adventure
ABCs
Counting & Numbers
Reserve yours today!
Family LEGO® at the Library
Spencerville Branch: 3rd Saturday of the month
Cardinal Branch: 4th Saturday of the month
The library has bins and bins of LEGO® available so come on in and build whatever you can dream of! Note: this program is not run by staff so parental supervision is required.